Hi guys, after promising a video review, I decided to divide my Bdellium brushes and bring you a small review of all the ones I have. Today we are starting with some of the makeup brushes I have from the Bdellium Tools Green Bambu Collection . Taken from the website this is what they state:
"Bdellium Tools Green Bambu series brushes are professional eco-friendly makeup brushes with all sustainable bamboo handles and all vegan soft synthetic bristles with an anodized aluminum ferrule... The advantages of synthetic bristles includes less or no hair shedding compared to natural bristles, it's easier to clean and provides a light application. The synthetic bristles are hypoallergenic and 100% cruelty-free."
These makeup brushes are ideal for all my Vegan friends or anybody allergic to animal hairs.
________________________________
Hola a todos, ya antes les había hablado de las brochas de Bdellium Tools en este video. Y aunque vean algunas repetidas, tengo nuevas asi que las separe y voy a hacer varias reseñas separadas. Hoy les traigo la reseña de las brochas que tengo de la Colección Green Bambú de BdelliumTools. Estas brochas son Ecológicas, con mangas de bambú y cerdas sintéticas, las cerdas son hipoalergénicas y no son experimentadas en animales. Por ser sintéticas estas cerdas no contienen el tratamiento antibacterial que tienen las otras colecciones de Bdellium Tools.
Estas brochas son ideales para mis amigos Veganos y cualquier persona que sea alérgico a cabello de animal.

Green Bambu Angle Face #990:
* Extremely Soft bristles
* I have been using this brush for my blush and contour bronzer. But I have also used it to add face powder and my T zone and it works wonders.
* It's a big brush and it can be limiting for its size, so if your face is small you might not find many uses for it.
_________________________
* Cerdas extremadamente suaves
* Perfecta para el rubor y el bronceador, pero por lo suave que es también se puede usar para ponerse el polvo en la zona T.
* El tamaño de la brocha es un poco grande, cosa que puede limitar su uso, especialmente si tu rostro es pequeño.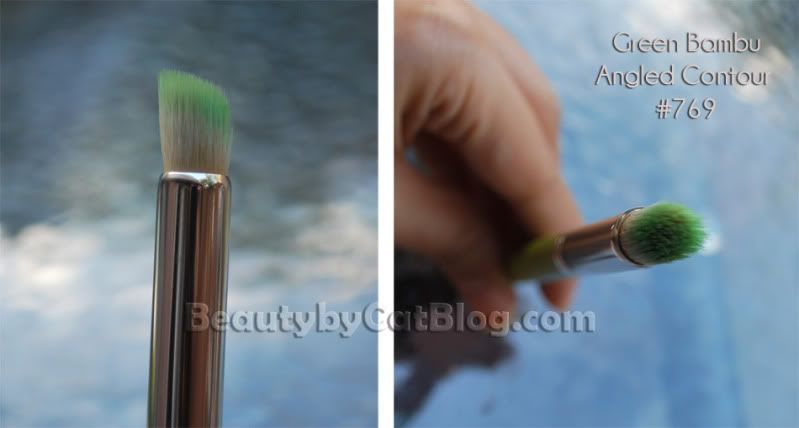 Green Bambu Angled contour #769:
* Soft bristles
* Nice for placing eye-shadow and blending color.
* Nice to use for the outer V on the eye.
* I have been using it to add and blend my concealer and it works beatifully because of its synthetic bristles.
_______________________________
*Cerdas suaves
*Buena para poner sombra en las esquina de afuera del ojo, al igual que difuminar la sombra.
*Yo la he estado utilizando para ponerme y difuminarme el corrector de ojos, funciona fantástico por ser una brocha suave y sintética.
Green Bambu Small Foundation #947
* Very small brush for foundation, better used for concealer.
* Bristles are soft but after washing they stay sticky and the product does not seem to clean out of it.
I have tried cleaning it many ways and is still sticky .
* I was very disappointed with this brush, I would not recommend it.
________________________
* Brocha pequeña de base para el rostro, pero la veo mejor como para corrector.
* Las cerdas eran suaves cuando lo recibí, pero después de utilizarla y lavarla, las cerdas se volvieron pegajosas, y por más que la lave nunca volvieron a su estado original.
* Esta brocha me decepcionó, no la recomiendo.
Green Bambu precision liner #540
* This brush is meant for eyeliner or lips. I have only used it for lips so I can't tell you how it works on the eyes.
* This brush is small and has a curved tip.
* I LOVE this brush, it contours my lips perfectly and I love how I can use it to perfect my cupid bow.
*
♥
Totally
Recommend
it!
__________________________
* Esta brocha está hecha para el delineado y los labios. Yo nada más la he utilizado en los labios así que solo puedo decirles cómo funciona en ese aspecto.
* Es pequeña y tiene una punta redondeada
* En resumen Me Encanta esta brocha, funciona súper bien en la aplicación del labial. También es ideal para perfeccionar el color en los bordes y el arco de cupido.
*

♥

La recomiendo al 100%
Thank so much for reading
✿
Un abrazo grande, y gracias por pasar!
✿
Disclaimer: Some of this brushes where
received complementary as part of Bdellium's Product Review
Program. I did not received any compensation for doing this review. All of my reviews are complete honest and reflect my personal experience with the product.